You can help provide Thanksgiving dinners for families in the Twin Cities living with life-threatening illness.
Turkey Drive Fundraisers
Select a Team:
Top Teams
Gryffindorks
THE 2016 TURKEY DRIVE – EVERY $50 SPONSORS A THANKSGIVING DINNER
You can help raise the spirits of an Open Arms client this Thanksgiving by supporting the Turkey Drive!
Each year, families gather to celebrate with food, friends, and family for Thanksgiving. You can keep that tradition going for a person with a life-threatening illness by raising funds for beautifully roasted turkeys and all the trimmings for their holiday table.
Every $50 provides a Thanksgiving feast to an Open Arms client
living with cancer, HIV/AIDS, multiple sclerosis, or ALS (Lou Gehrig's disease), so that they can enjoy a turkey dinner with their loved ones.
Help us raise $34,300 to cover all of this year's 686 Thanksgiving feasts
that we'll deliver right to our clients' doors this November.
JOINING THE TURKEY DRIVE AS A FUNDRAISER
You can make an even bigger impact for our clients this Thanksgiving by spreading the word about the Turkey Drive to your friends, family and coworkers!

Raising money for Thanksgiving dinners is fun and rewarding, as you're making a direct impact for our clients this holiday season. We'll provide you with a personalized turkey page for donations and plenty of tips and tools you can use to spread the word to your network.


By joining the Turkey Drive as a fundraiser, your goal is to raise at least $100 for two turkey dinners. But don't stop there! At every level you'll get a new reward:
-
Raise $100 (two turkey dinners):
Get Turkey Tips & Recipes from our team of chefs
-
Raise $250 (five turkey dinners):
Get a Turkey Drive t-shirt
-
Raise $500 (ten turkey dinners):
Get a box of artisan chocolates handmade in the Open Arms bakery
Along the way, you'll also compete in weekly drawings for freshly-baked pies from the Open Arms bakery, gift cards, and other goodies to make your Thanksgiving table extra festive.
By joining the Turkey Drive, you'll get a special paper turkey with your name on it on the Turkey Track hanging in our building, a record of the competition. As you fundraise, your little paper turkey will compete against all the other fundraisers for the ultimate grand prize:
a Turkey Trophy to proudly display on your Thanksgiving table
, and your name inscribed on the permanent Turkey Trophy displayed at Open Arms.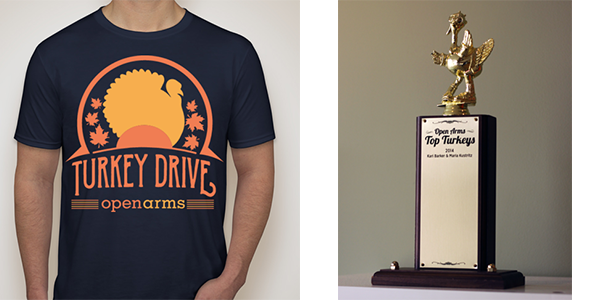 TEAMS
If you'd like to get your friends, family or coworkers involved, we can set up mini-competition for your group so that you can compete against each other and have fun while raising money for a great cause. Email angie@openarmsmn.org to learn more.

WHAT YOUR HELP WILL MAKE POSSIBLE
Because of your support, our clients get to choose between two Thanksgiving meal options to share with their families:
1. Those who feel up to cooking receive a high-quality frozen turkey with all the fixings.
2. Those who are too sick to cook receive a ready-to-enjoy turkey dinner with all the fixings delivered on Thanksgiving Day.
Every bit counts, and your fundraising helps provide more than just a piece of pumpkin pie. It gives some much-needed joy to clients like Candice:
"I just got my Thanksgiving dinner and I am completely overwhelmed. A whole turkey and a pumpkin pie and everything else – I am feeling so thankful. You have just made my Thanksgiving brighter."
Thank you for your support of the Turkey Drive! Join the fun today by
donating
or
becoming a fundraiser>>
Have questions or need help? Get in touch with us>>